Igjen en utfordring jeg ikke kunne stå imot.
Forutsetningen var å bruke brads eller eyelets, jeg bestemmte meg for brads.
Det var en slags tilfeldighet for jeg trengte et bursdagskort likevel, så ble det et " suspension " kort av det. ( Noenganger kommer ideene når jeg jobber med noe :)
Jeg brukte brad'sene for middelstykket av kortet.
Ta en tur over til
Mytimetocraft
og la deg inspirere
----------------------------------------------
Another great challenge which I could not leave my fingers off.
The requirement was to use eyelets or brads. I went for brads.
Actually the card is kind of a coincidence because I needed a birthday card anyway, and it turned into be a suspension card. ( sometimes my ideas comes as I go lol )
I used the brads for the corners of the centerpice.
Pop over and have a peek into the
Mytimetocraft
blog and get inspired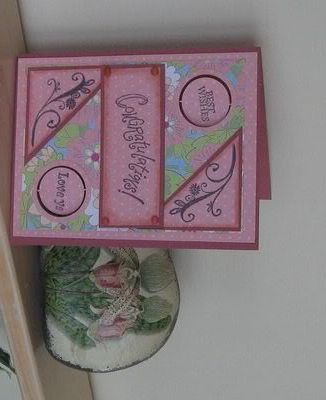 Wieder eine Herausforderung wo ich nicht wiederstehen konnte.
Die Vorgabe war Brads oder Eyelets zu benutzen, ich habe mich für Brads entschieden.
Eigentlich war die Karte ein Zufall weil ich so wie so eine Geburtstagskarte brauchte,und es ergab sich dass, die Karte sich in eine " Suspension " Karte verwandelte.( Ab und an kommen die Ideen wenn ich arbeite :) Die Brads habe ich für die Ecken des Mittelstückes benutzt.
Saust mal rüber zu
Mytimetocraft
und lasst Euch inspirieren.